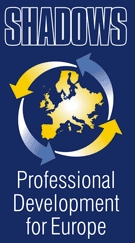 Shadows Professional Development Ltd. PIC – 949086219
Registered in England and Wales. Registration Number: 06594569
Registered Office: 113 Harewood Avenue, Bournemouth BH7 6NP, ENGLAND
Shadows and/or its Counsellors across Europe act only in an advisory and supportive role. The formal agreement for the Erasmus+ mobility and the delivery of the course is between the Sending School, Participant and the Course Provider.
Shadows Bi-Component Courses: Shadows licenses the partner language school to be Course Provider for Erasmus+ purposes. Shadows works in partnership with the partner language school as Course Manager
School Management Study Visits: Shadows is Course Provider PIC – 949086219 for Erasmus+ purposes.