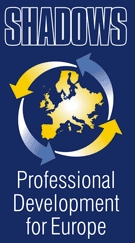 Erasmus+ KA1 Schools'  Applications (teacher CPD)
Shadows and its Counsellors work without charge with the sending school to make a funding application. Shadows and/or its Counsellor provide a detailed Application Guide under licence to the sending school
June/July
The sending school decides in very broad terms the title of their project
The sending school selects numbers of staff for participation in the project
The same member of staff can go twice during a 2 year project (2 mobilities) …e.g. first year Intensive Language, second year Language and Culture or Language and Methodology or School Management Training
The school looks at Shadows Network Courses and finds suitable courses
The school decides number of mobilities
September to December
The school signs a GUIDE licence
The school writes the 2 year grant application using the Shadows Guide
Shadows proofs, amends and makes suggestions for improvement
The sending school finalises the application
Grant Application Deadline early Feb
Shadows makes a final proof
Shadows provides Course Descriptions to support the application
The sending school submits the application by the deadline
June/July
The sending school is notified of the successful result of the application
The grant covers staff participants' course fees, travel, accommodation & subsistence. The grant also includes a 350 Euros Management, Coordination and Implementation Fee  per mobility.
Course Booking
The sending school completes an application form and returns it to the Course Provider
The sending school receives confirmation of enrolment from the Course Provider
The Course Provider arranges accommodation (if required), following requests on the Enrolment Form
The Sending School arranges payment of the grant to the participant who books travel and travel insurance to include cancellation and medical repatriation.
The Sending School may pay course/accommodation fees to the Course Provider or its agent directly or may give that money to the individual Participant to pay the Course Provider or its agent.